Katja Gorečan, Mojca Kasjak
One Night Some Girls Somewhere Are Dying
choreopoetry – premiere of festival's production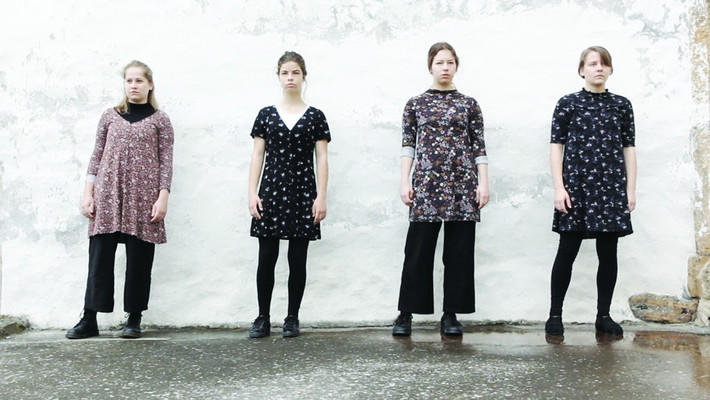 Zavod MOJa KreacijA, Plesna izba Maribor, 2020
Authors of project: Katja Gorečan in Mojca Kasjak
Author of poetry and dramaturgy: Katja Gorečan
Choreography, staging, direction, executive production: Mojca Kasjak
Dramatic interpretation of poetry, author of musical poetry, and direction: Alenka Vidrih
Performers and co-creators, movement: Petja Golec Horvat, Ivana Kocutar, Ajša Mara Kacjan, Simona Bobnar Radenković
Sound design: Toni Soprano Meneglejte
Light design: David Orešič
Costumography: Milena Petelinšek
Production of festival in the frame of Platform for Contemporary Dance, Zavod MOJa KreacijA, Plesna izba Maribor
Coproduction: Maribor Puppet Theatre
Partners: Vetrinjski dvor mansion – Narodni dom Maribor, MKC Črka
With the support of: Ministry of Culture of the Republic of Slovenia, City of Maribor
What happens when violence against the body causes loss. As in the intimate history of women, in which their position of the non-existent manifests. This is why women in this (social) imaginary are silent and give their body, so that power, meaning, the life of another might be inscribed in it, as though they themselves are inscribed in the position of the non-existent and the invisible. What happens when your body is no longer yours? As non-existent in and of itself, as a state when it belongs to someone or something else (to some other meaning). The development of the body is endangered, as movement and contact with the outside world is prohibited. What can the uneasiness of restraint cause? The body becomes the property of someone else. Is there an alternative – a resistance to this condition? Girls use their bodies in several phases for the safe surroundings of their stay: a body that does not dwell, a body that emerges, a body that grows, and a body that expands and takes up the space that belongs to it.
Katja Gorečan graduated from the Department of Comparative Literature and Literary Theory, and completed a Masters degree in dramaturgy and performing arts at the Academy of Theatre, Radio, Film, and Television (AGRFT). In 2007 she published her first collection of poetry, Angels of the Same Origin, and in 2012 the anthology The Suffering of Young Hana (Centre for Slovene Literature), for which she was selected for BJCEM (Mediterranean Young Artists Biennale), as well as nominated for the Jenko award. In 2017, House of Poetry published her third book, On some night, some girls are dying somewhere.
Mojca Kasjak is an independent artist in the field of culture. She is a dancer, choreographer, dance pedagogue, executive producer, as well as the program and artistic director of the Platform of Contemporary Dance festival. She has earned degrees in Geography and Sociology, as well as a specialization at the London Contemporary Dance School in the UK. She has authored many projects and dance performances, and has been the winner of individual awards. In 2017, she founded the Institute for contemporary dance arts, creativity and the art of being, MOJa KreacijA. She is currently pursuing a Masters degree in Helping with Art at the University of Ljubljana. She is also the state selector for the following year at JSKD.