Jasmina Križaj, Simon Wehrli
Nothing works (Shakira, Shakira) – Les Etudes Madonna
sound-movement performance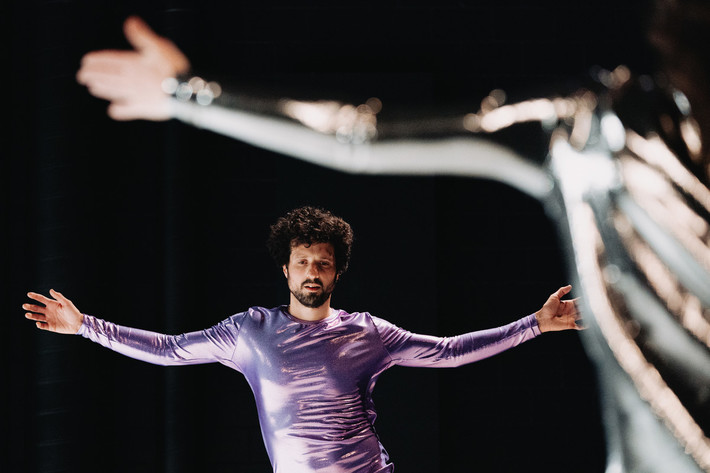 Verein lil, 2020
Concept, choreography, performance: Jasmina Križaj, Simon Wehrli
Music, performance: Franziska Staubli
Dramaturgy, performance: Robert Steijn
Costumes: Urška Recer
Production: Verein lil (life is life)
Coproduction: Kunsthalle Winterthur, Maribor Puppet Theatre, Platform of Contemporary Dance – Zavod MOJa KreacijA, Plesna izba Maribor
Residencies: projekt Reso – Tanznetzwerk Schweiz, Théâtre du Crochetan Monthey, TLH Sierre, Zeughaus Kultur Brig in Dienststelle für Kultur Kanton Wallis
Financial support: City of Maribor, Fachstelle Kultur Kanton Zürich, Stadt Winterthur Kultur
Križaj/Wehrli see space as the uterus and pelvis as the source of all movement. With the circling of a pelvis, content and choreography begin to develop out of nothing. According to the authors, no other body part is as suggestive and provocative as the pelvis. (For Shakira the pop star, as we can deduce from her statement "Hips don't lie!", this is even an absolute truth).
Together with the Swiss guitarist Franziska Staubli and the Dutch artist Robert Steijn, Jasmina and Simon invite the public to shamelessly lower/relax their gaze. Nothing Works (Shakira, Shakira) refuses the logic of consumption, profit and self-optimization. The performers don't want to produce more, rather less – they don't want to go higher, but lower.
Jasmina Križaj and Simon Wehrli's collaboration began in 2011. Together they have created the following performances: False Entries (2012), Greatest Hits (2013), Nature Poetry (2018), Deep Purple vol. 1 (2019) and Nothing Works (Shakira, Shakira) – duet (2019). In their projects they research how specific movement develops through an amplitude of time, and how it might be sensorically transmitted to the audience. In addition to physical research, they have also developed a method for documenting their work in the form of writings, poetry, images, and sound. Sometimes, the so-called by-products become part of the choreography.