Jan Rozman
Memememe
dance performance and discussion with creators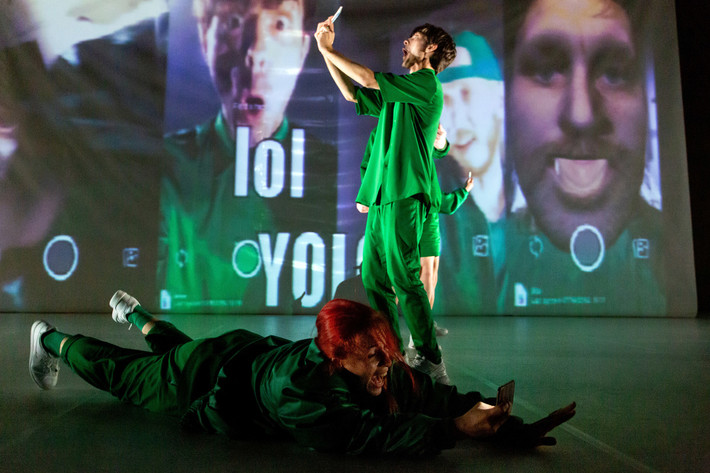 Emanat, 2019
Concept, direction, and choreography: Jan Rozman
Performers: Peter Frankl, Kaja Janjić, Julija Pečnikar, Daniel Petković
Dramaturgy: Varja Hrvatin
Sound and video: Vid Merlak
Costumography: Tanja Pađan (Kiss the Future)
Light designer and technician: Urška Vohar
Advisor for scenography: Dan Pikalo
Executive production: Sabina Potočki
Production: Emanat
Partner: Bunker / Stara mestna elektrarna – Elektro Ljubljana, Mediterranean Dance Centre, Svetvinčenat
Financial support: City of Ljubljana and the Ministry of Culture of the Republic of Slovenia
In collaboration with: CoFestival 2019, Ljubljana
Who is 'me' in 'meme' in 'MEMEMEME'?
MEMEMEME is the space of a community's flow of association, a clash of an infinite number of memes* and their reverberations. Through the performers' bodies – organic generators and bearers of ideas – as well as digital video and sound references the performance layers gestures, movements, images and expressions. It explores the potentiality of semantic splits and gaps opened up by the fragmented nature of modern communication and questions the social mimetic drive – this almost unstoppable tendency to imitate.
*A meme is any idea that is, despite its potential randomness or nonsense, repeated and multiplied through variation and selection. As a consequence of the near universal use of the internet in the digital age, the most widespread, flexible, resilient, and circulated are precisely (viral) internet memes.
Jan Rozman studied contemporary dance at Arts Secondary School in Ljubljana and choreography at School for New Dance Development (AhK) in Amsterdam. He received his Master's degree in solo/dance/authorship from Inter-University Centre for Dance (UdK), Berlin. In 2019, he received the Ksenija Hribar Award, presented by the Contemporary Dance Association Slovenia, as the most "promising choreographer" and was also the recipient of the DanceWeb scholarship at the ImpulseTanz Festival in Vienna. He is a performer, choreographer, dancer, and improviser. His artistic practice engages with extended embodiment, material semiotics, textures, gaps, errors and confusions, ecology, imagination, (science) fiction, and humour as he searches for relevant performative articulations of the post-internet/anthropocene era.
www.janrozman.net