Alicia Paulina Ocadiz Arriaga
Assemble Yourself
dance performance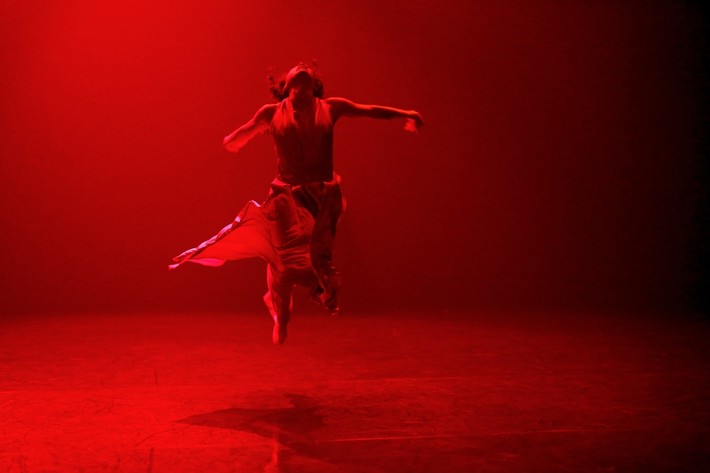 Dance Theatre Ljubljana, 2019
In collaboration with Open dance scene and Festival Lent
Concept, choreography, and performance: Alicia Paulina Ocadiz Arriaga
Dramaturgy: Andreja Kopač
Lighting Design: Borut Bučinel
Costumography: Neva Vrba / Društvo B.O.B.
Original Music and Performance: Aleksander Kuzmić
Vocal on track: Zvezdana Novaković
Author and reader of Haiku on track, Concept Advisor: Vid V. Vodušek
Recorded at: Recording Studio Mario Marolt
Sign Language Advisor: Tina Strel
Acrobatics Advisor: Katjuša Kovačič
Movement Advisor: Ryuzo Fukuhara
Producer: Živa Brecelj
Produced by: Plesni Teater Ljubljana – Debut PTL 2019
Thanks to: Dušan Ugrina, Carlos Pascual, Lucía Ramallo, Nikola Orešković, Victor Jesús Ocadiz De La Rosa
Performance at the festival is made possible by:
Festival Lent, Narodni dom Maribor, JSKD, Plesna izba Maribor, Zavod MOJa KreacijA, Lutkovno gledališče Maribor
Izvršna produkcija OPS: Minka Veselič Kološa
My body is not
here-it's some space in between
it's not some-it's space.
Vid V. Vodušek
Assemble yourself is a solo dance piece dealing with the relation between identity and migration.
It is an abstract journey that explores how one's inner landscapes of thoughts, values, emotions and beliefs are permanently reshaped by spatial and temporal dislocations, resulting from a physical act of movement across actual and/or symbolic borders.
The work is a personal way of coming to terms with change and impermanence of human identity; celebrating the freedom that these characteristics offer us to continually assemble ourselves.
Alicia Ocadiz received her Masters Degree in Dance and Motion Arts in 2015 under a research of "Meeting points in dance between Indonesia and Mexico" from the San Antonio Catholic University of Murcia in Spain. She graduated with a Contemporary Dance Degree from the National School of Classical and Contemporary Dance of Mexico City and is a certified dancer of the prestigious schools Rotterdam Dance Academy CODARTS in Rotterdam Netherlands and the Beijing International Arts School in Beijing, China. She has performed as a choreographer, dancer and circus artist on various stages, theaters and festivals in several countries. She has been, among others, a member of the companies 2Move Dance Company (Holland), NANA + NA (Panama), Foco al Aire Producciones (Mexico), Ashley Meeder Movement Project (E.U.), Circus Kansky (Slovenia). In 2009 she won the "Mexico City Youth Award" and in 2010 the Niewe Maan award for creating and executing the best show for Gallery within the framework of the Museum Nacht in Rotterdam.